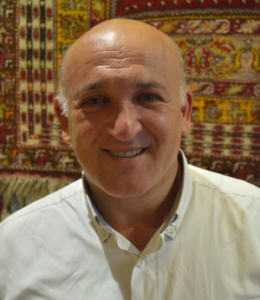 I was 1969 born in Nigde province next to a carpet loom. My family moved to Ankara 1970.  My father was in carpet business and travelling in Anatolia. After elementary school,  I have entered to carpet business with my father in Ulus – Opeara square where all the people used to come and sell their textiles and rugs from all other towns of Anatolia.  I started to work for other dealers in Ankara and Adana with  Vedat Karadag and he made me fall in love with rugs.
I started my own repair shop in Ankara in 1987. I started to buy and sell tribal and village rugs and kilims.
My greatest interest was nomadic gran bags – Yastiks and ethnic personal weavings. I moved my shop to Balgat in 2001 to be closer to embassy people and uptown. Later years, we have established a washing and cleaning facilitiy in 2004.
Years went by and I have had the chance to sell many pieces to U.S and all other embassies.
There has been clients who bought over 300 pieces in just 3 years period and many other rug  and textile lovers decorated their homes with our textiles.